BCI Post-Conference Course:
The BCI Business Impact Analysis Master Class

Presented by: Ted Brown, President & CEO of KETCHCosulting:
This course is designed to provide participants with one day focused entirely on how a BIA is carried out in an organization. It combines a presentation on the theory and current good practice on doing a BIA with a real-life application of this theory. It is delivered by an expert facilitator to share hints, tips and lessons learned on the BIA process. Actual BIA client results will be reviewed. You will have the opportunity to take part in a facilitated practical session to carry out a BIA using a case study with example questionnaires and templates to take away. This course is for those BC professionals who are responsible for carrying out a BIA at a Strategic, Tactical or Operational level within their organizations, and for those who require a better understanding of this essential part of the BCM Lifecycle.



About Ted Brown:

Ted Brown, MBCI, CBCP, CBCV President & CEO of KETCHConsulting, is a recognized Crisis Management and Business Continuity industry leader. Brown, a graduate of Penn State, was elected to the Penn State Board of Trustees in 2013, serving on the Outreach and Audit and Risk Committees, and is Founder of the Risk Subcommittee, leading efforts to mitigate risks there. He is also a member of the Business Continuity Institute USA Board, serving as Education Chair. With 49 years in technology, Brown has contributed 30 years of experience to the business continuity/COOP industry. He has led the development of hundreds of unique BCP/COOP plans and actual recoveries. He also offered a great deal of time and personal assistance during the long effort to reconstruct the U.S. Virgin Islands after Hurricane Marilyn. In November of 2007, KETCHConsulting was inducted into the BCP Hall of Fame. In 2002, Ted as an individual was elected to the BCP Hall of Fame along with Rudy Giuliani. The Hall of Fame recognizes leading contributors to Business Continuity.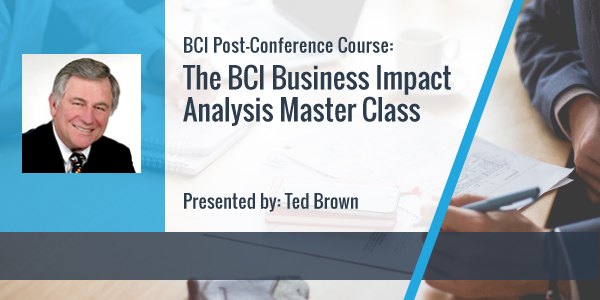 Event Details:
When:
Thurs., March 29, 8:30 a.m. – 4:30 p.m.

Where:
Orlando, Florida
Registration Fee:
$695 per person
Speaker:
Ted Brown, MBCI
Register Now!