KETCH Consulting Class:
How to Conduct Tabletop Exercises

Presented by: Ted Brown, President & CEO of KETCHCosulting:
In this class presented by KETCHConsulting, you will be given four different Table Top scenarios, including the injects, and will learn how to:

Create a situation, scenario and injects for your audience, your business, your location and your BCP maturity.

Identify operations, decisions and policies that impact the ability of a business unit to execute.

End the exercise with conclusions and discussions that will change, emphasize, and otherwise affect your business continuity/COOP plan.

Conclude with an "after action" report that will lead to effective modifications and improvements to the plans being exercised.
Participants will be given the complete set of injects for four different Table Tops.



About Ted Brown:

Ted Brown, MBCI, CBCP, CBCV President & CEO of KETCHConsulting, is a recognized Crisis Management and Business Continuity industry leader. Brown, a graduate of Penn State, was elected to the Penn State Board of Trustees in 2013, serving on the Outreach and Audit and Risk Committees, and is Founder of the Risk Subcommittee, leading efforts to mitigate risks there. He is also a member of the Business Continuity Institute USA Board, serving as Education Chair. With 49 years in technology, Brown has contributed 30 years of experience to the business continuity/COOP industry. He has led the development of hundreds of unique BCP/COOP plans and actual recoveries. He also offered a great deal of time and personal assistance during the long effort to reconstruct the U.S. Virgin Islands after Hurricane Marilyn. In November of 2007, KETCHConsulting was inducted into the BCP Hall of Fame. In 2002, Ted as an individual was elected to the BCP Hall of Fame along with Rudy Giuliani. The Hall of Fame recognizes leading contributors to Business Continuity.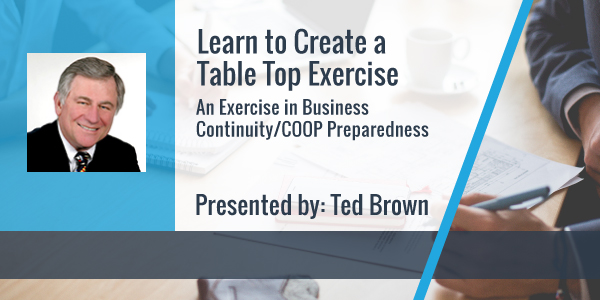 Event Details:
When:
Wednesday, March 28, 1:30 p.m. – 5:00 p.m. (half-day course)
Where:
Orlando, Florida
Registration Fee:
$350 per person
Speaker:
Ted Brown, MBCI
Register Now!